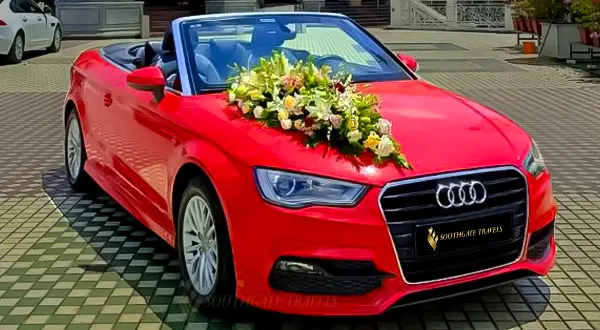 WEDDING CAR RENTALS
Allow us to make your special day even more extraordinary by offering you the most luxurious, comfortable, reliable and flawless ride to your venue. Weddings can be stressful and can take a toll on you. Allow us to pamper you and remind you that it is the most special day of your life. We make your drive to the venue peaceful and hassle-free. Choose from the luxurious fleet of cars including Jaguar, Benz, BMW and Audi to make your day even more memorable.
In addition to the above, we also extend our services to destination weddings. From car rentals for the bride, groom and guests to hotel bookings, we have you covered. Enjoy your big day in style.
Southgate Travels offers luxury wedding car rental services in Trivandrum, Kerala, and all over India. Our wedding car rental fleet includes a variety of luxury cars that are perfect for your special day, including Rolls Royce, Jaguar, Land rover, Mercedes Benz, BMW, Audi sedans, SUVs, vintage cars and limousines. Our expert team will work with you to understand your requirements and provide you with a customized package that suits your needs and budget. We understand that your wedding day is one of the most important days of your life, and we strive to make it as special as possible. Our fleet of luxury cars are well-maintained and driven by professional and experienced chauffeurs, ensuring a safe and comfortable ride for you and your loved ones. We also offer customized decorations for your wedding car to make it look more beautiful and special on your big day. At Southgate Travels, we believe in providing affordable wedding car rental services without compromising on quality. We are committed to making your wedding day a memorable one and provide 24/7 customer support to ensure a hassle-free experience. Contact us today to book your luxury wedding car rental and make your special day even more unforgettable.